Nachdem sich im Dezember die Linksweiche für die hinteren Gleise lektrisch verabschiedet hat, wurde über eine Alternative nachgedacht.
Im Gleisvorrat befanden sich noch 10 handgefertigte Weichen aus Ungarn (mit Herzstückpolarisation), die entsprechend der
Märklin Geometrie gefertigt wurden (also 1:1 austauschbar). Um auf die Höhe der Rokuhangleise zu kommen, wurde
2,5mm Finnpappe untergeklebt und die Weiche gealtert und geschottert.
After the left-turn for the rear tracks has been adopted in December, an alternative has been considered.

In the track stock were still 10 handmade switches from Hungary (with heart piece polarization), according to the
Märklin geometry were manufactured (ie 1: 1 interchangeable).
To get to the height of the Rokuhan tracks was
2,5mm Finnpappe underpainted and the switch aged and gravelled.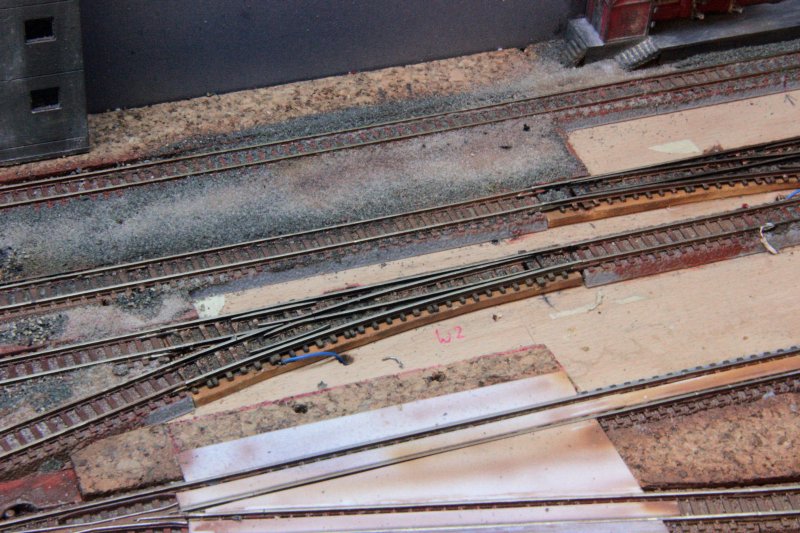 hier die erste Weiche eingebaut und mit Unterflurantrieb (Glöckner) versehen
Here the first switch is installed and provided with underfloor drive (Glöckner)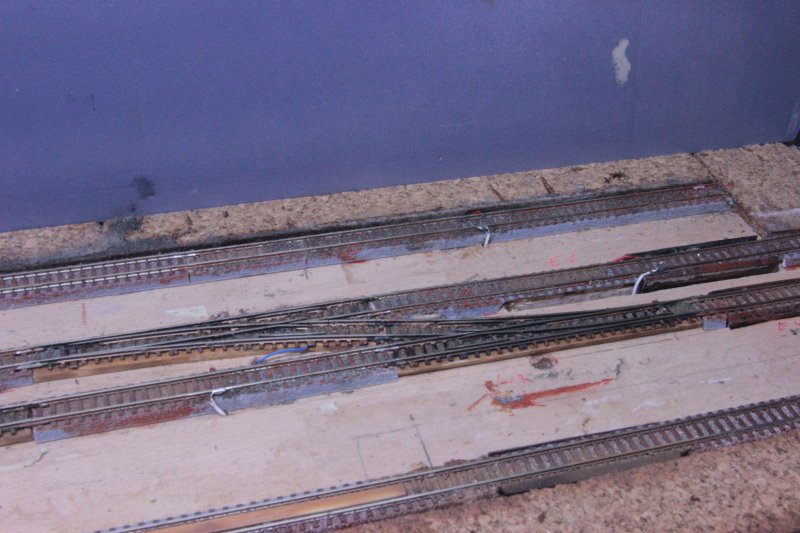 Der Gleisübergang von vorne nach hinten. Der hintere Jörger mußte nach rechts versetzt werden um Platz für den Atrieb zu schaffen

The track transition from front to rear.
The rear Jörger uncoppler had to be moved to the right to make room for the drive